Back to all posts
Posted on
School Supplies 2021-2022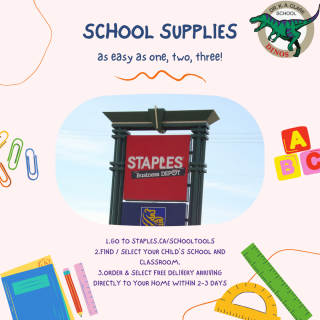 Click School Supplies 2021 - 2022 to see the school supplies for each grade!
DR. CLARK SCHOOL SUPPLY LIST 2021-2022
Free Delivery with Paid Order
 Arrives within 2-3 to your doorstep!
Discover a better way to be ready for Back-to-School.
Trust Staples – everyone's Back-to-School Headquarters – to come up with a better way to streamline the process of getting yourself ready.

Staples School Tools provides you with direct access to the school supplies your child will need – as provided by their actual teachers – and an easy way to order them without ever leaving home.

You'll save time. You'll save money. And you'll have exactly what you need to give your child the best start possible.
How do you start?
1.Go to Staples.ca/SchoolTools
2.Find / select your child's school and classroom.
3.Order your child's supply list when it appears.
4.Select free delivery with your paid order, arriving direct to your home within 2-3 days
School Tools
Not only will you spend less on supplies, you'll be covered with a full quality guarantee and replacement warranty on everything you buy. Enjoy the total convenience of ordering from home – complete with free delivery. You can also choose to order online and request a store pickup, if you prefer. Either way, the time
you save is your own – giving you more of it to spend on getting everybody ready for the big day.

Choose total convenience and check one thing off your list.
Sincerely,
Cindy Tulk
GM, Fort McMurray
Cindy.Tulk@staples.ca