Back to staff directory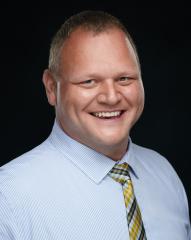 Principal
Phone: (780) 743-2444 extension 4103
Hello, my name is Mark Dolmont and I am excited to be returning as the principal at Dr. Clark.
I am originally from Nova Scotia where I was born and raised, but now consider Fort McMurray my home. I attended St. Francis Xavier University where I received both my Bachelor of Science as well as my Bachelor of Education degrees. Following my experiences at STFX, I attended the University of New Brunswick where I obtained a master's degree. After a ten year hiatus, I have returned to school and have recently finished a Doctor of Educational Leadership from Western University. Education has always been a passion of mine and I enjoy the challenge of learning new things.
I arrived in Fort McMurray in 2008 and had taught at Father Patrick Mercredi Community High School for 9 years, as well as being the vice-principal of the Fort McMurray Islamic School and Ecole Dickinsfield. During this time I have also had the opportunity to be an instructor for the education department at Keyano College.
My wife Julie and I are proud parents of our hilarious 6-year-old son Levi who is a ball of energy. We love living in this community and look forward to being involved with Dr. Clark family.
If you have any concerns please don't hesitate to contact me either through email or by scheduling a meeting. I look forward to working with the students, staff, parents, and community members involved with Dr Clark. I know this is going to be a great year!